Come paint with us on Hvar, Croatia 4-12 September, 2016! Based in the quiet little fishing port of Vrboska, we'll have seven days exploring some beautiful locations with cameras and sketch-books at the ready. Non-painting partners welcome!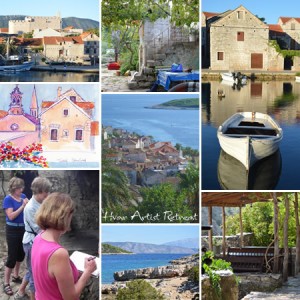 The island of Hvar lies in the clear blue Adriatic Sea between Split and Dubrovnik, and has been popular with travellers for over 2,000 years! Within a very short distance of our base are quiet coves, medieval towns, deserted villages, mountains, pine forests, vineyards, olive groves, lavender fields and much, much more!
Details: Artist Retreat 2016
Read Go Hvar for our latest ramblings about this delightful island.